Reading Time:
7
minutes
After months of training, in September 2019 I posted my fastest half-ironman at 5:47:41, followed shortly thereafter by coming within 2:09 of a Boston Qualifying time, with a 3:17:09 marathon.
It's safe to say I was entering 2020 on a high note.
It didn't take long for all that to come crashing down, by first breaking my heel on my planned final "local" ski run of the year, then only three days later discovering the world had changed.
As I sat at home and pondered my fate, and the fate of the world, I didn't think or expect much from 2020.
With fear, anxiety, and panic slowly consuming the world I made the mental choice to stay positive, and seize the opportunity to try new things.
A key part of that was learning how to write, to leverage social, and take my normal behind the scenes persona, and move it to the public realm via this blog you're doing today, while also changing up my normal training routine by focusing on those bucket list items that I may never had made time for otherwise, like bikepacking/touring.
Although it hasn't always been easy, the process was a much-needed distraction and although it's a work in progress, something I'm quite proud of.
The amazing thing, despite being out of commission for two months, and not being able to run for four months, I've posted my highest total lifetime distance at 3,691km, came only 7.1% off my best total-time spent exercising ever of 244 hours in 2017, while also breaking through the 200 km in each of the last three months of 2020.
As for the blog, in many ways, it's been an excellent success as both a personal outlet, and with over 2,000 visitors and 4,000 views, for readership as a whole. I should note that without a doubt, although running's my passion, as demonstrated below, it's bikepacking that sells.

My top posts so far:
Although it didn't make the cut, with only 29 total views, perhaps the post that meant the most to me was my recap of the 2020 Virtual Toronto Waterfront Marathon.
March 2020 – Broken Heel
With my children in lessons, I decided to teach myself jumps this year, starting at small hills, and slowly working my way up, and for the most part, it was great.  With our ski season coming to an end, and a visit to Tremblant only a weekend away, I had my wife come down to film my final jump of the year, and although it didn't end well, at least I have it on video.
The funny thing, although you would think it was my face that felt the impact, that part was fine, but my left heel, the point of impact, was not.
With my first visit to Tremblant only days away, I didn't want to believe it was broken, in fact, I was determined to ski. Then COVID hit, Tremblant was cancelled, and a week later the broken heel was discovered, followed by eight weeks in a boot, and eight more without running.
June 2020 – The Blogging Journey Begins
I started my first blog, corykawa.ca, as an attempt to better connect with clients and customers by sharing my knowledge gained through a lifetime in HR/Payroll, combined with continuous learning provided via edX and Coursera.
As I developed content for that blog I realized I had a larger story to tell about my journey from a non-runner who could barely run around the block, to a finisher of multiple half-ironmans, and future BQ qualifier and ultra-marathon runner, and with that, An Athletes Blog was formed.
August 2020 – Simcoe County Loop Trail and Cannonball 300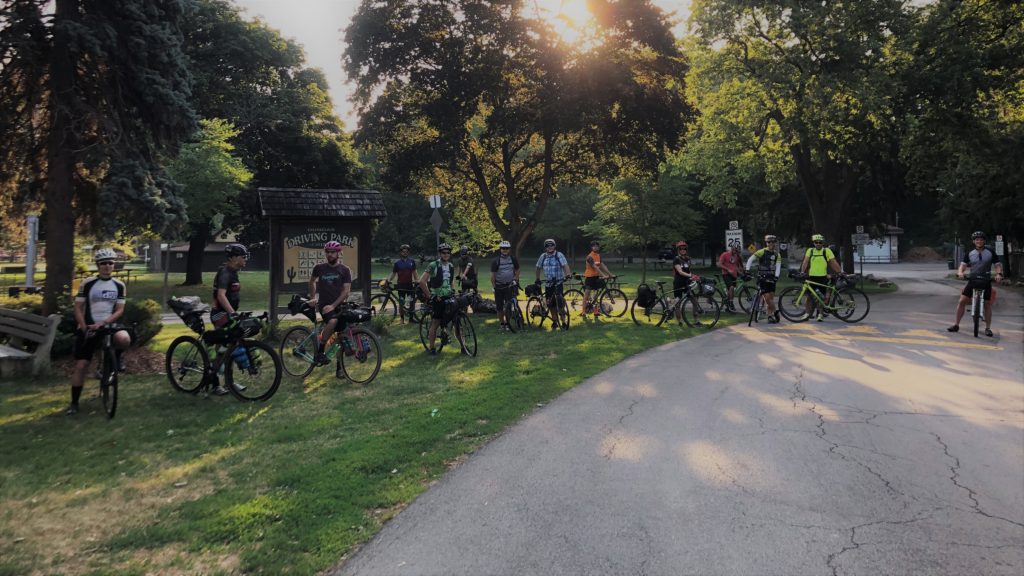 I was first introduced to the idea of bikepacking while visiting MEC back in the winter of 2018, when I met Christina Laflamme, the author of Flip Flop Fantasy, an excellent book about her summer of biking from downtown Toronto to the end of the Cabot Trail.
With no races, no plans, and a once in a lifetime opportunity to try something different, I trained for and completed both the 165km Simcoe County Loop Trail on August 1, and my first multi-day adventure the 315km Cannonball 300 on August 22 and 23.
Bikepacking is something that I probably would never have done otherwise, and now that I have, the big question will be how will I ever fit it all in, there are just too many amazing races to do, and places to explore.
September 2020 – Durham Destroyer
With the days slowly growing shorter, and the weather cooling down, I decided to head out on one final adventure, the 2021 edition of the Durham Destroyer I'm Not Worthy.
There are three editions of the Durham Destroyer the 100km Rookie, 160km I'm Not Worthy, and 302km Full Monty. Although I'm not sure about the rest the I'm Not Worthy was epic, with epic scenery north of Port Perry, fantastic views of the Beaver River Wetlands, a hop through Durham Forest, followed by the nightmare of Byers and Boundary Road.
If you haven't ridden out here yet, you gotta come experience all Durham has to offer.
October 2020 – Waterfront Virtual Marathon
If there was one time this year that the impact of COVID hit me more than any other, it was arriving downtown the morning of October 18 for my first virtual event, the 2020 edition of the Scotiabank Waterfront Marathon.
Having only returned from injury three and a half months prior, I wasn't trained, or ready, but after running my first half marathon here in 2012, and posting a record time in 2019, running the event felt like an important thing to do.
For whatever reason, running the actual course, as much as possible, was important to me. As I think back to past years, the part about the Waterfront Marathon the post is just how many runners there are. This time was different, as I pulled into downtown for the first time in months, I discovered a ghost town, I thought about all the businesses and people that were suffering and dreamed and hoped for one day being back to normal.
December 2020 – 5k PB Attempt and TTC Challenge
After four months without running, returning to running wasn't fun. What was once an easy welcome part of my training, quickly turned into the hardest part. No matter how hard I tried, I couldn't find that motivational spark, to the point that I even briefly considered trading in the running shoes, for biking cleats permanently.
As I thought about all I've accomplished over the years, and how running has been such a great catalyst in my life, I decided to challenge myself in a new way, in a way that felt like it would be shorter, and possibly even easier, by attempting to break my 5k PB of 19:45, set back in 2016.
Although it didn't go to plan there were lots of small successes along the way including my first of many 200k plus months, discovering new ways of enjoying running by running the TTC, and renewing my passion for running, after a four-month injury return.
The final post can be found here, Another Kick at the Can – 5k PB Attempt 2.
That was followed up just a little while later by my second virtual race the Tannenbaum 10k.
Looking Ahead to 2021
I don't think races will be coming back, so I've set a few new goals:
Run my first ultra type event, the David Goggins inspired 4x4x48 event in support of the Maddie Project.
Continue to train for and push towards a 5k PB, with a stretch goal of setting myself for success in a 10k and 21k PB attempt when races return in 2022.
Bikepacking including the 302km Durham Destroyer Full Monty, the 350km GNR route, the 148km Burks Falls Loop, a soon to be released route that I hear is currently being mapped up Haliburton way, and if I get really ambitious and time permits, the route that started it all the 450km Central Ontario Loop Trail.
I hope you enjoyed the post. Please feel free to share how your 2020 went, and the adventures you have planned for 2021.