Reading Time:
6
minutes
This year I decided to dive headfirst into the world of bikepacking, purchasing my first gravel-specific bike, the Norco Search XR C2. With the bike out of the way, it became the time to focus on the next step, the bikepacking set-up, and with that, I would like to share my initial thoughts on my new custom frame bag from Field and Forest.
Fyi, this is not a paid write-up, no discounts were given, and is simply intended as a service to help anyone else looking for a bag.
Why Field and Forest
There are so many great companies doing so many great things that choosing one to work with was a very tricky thing to do.
The first big question… a custom frame bag or something off the shelf? Without much of a price difference between the two, and a guaranteed fit, this was an easy choice, custom frame bag all the way.
After hours of research, I narrowed my list down to two Canadian companies, the very popular in bikepacking circles, Thief Bikepacking, and the newer player on the market, Field and Forest.
Although I went with the frame bag from Field and Forest, I also ordered the Watering Hole and Tool Roll from Thief Bikepacking. I'll write a review on those two in the coming weeks.
It wasn't an easy decision, for weeks I went back and forth asking various questions to the Ontario Gravel and Adventure Riders Facebook Page and to both manufacturers via their Facebook pages. They were both very responsive, knew their products well, and seemed like they would be excellent companies to buy from.
Where Thief specializes in watering holes (feed bags), top tube and frame bags, Field and Forest specializes in waxed canvas totes, front handlebar bags, and custom frame bags.
It was a tough choice, but one key feature from Field and Forest ultimatley won out, an integrated daisy chain webbing on all sides. The daisy chain would allow me to place the straps easily around any other items I may have on the frame, and to even replace straps as required down the road, perhaps even with Shock Cord or Voile Straps if I ever so choose.
The webbing also came with the added advantage of allowing me to go with an all X-Pac frame bag due to the straps providing the additional abrasion resistance on all contact points.
Beyond colour and fabric, there were multiple other options to choose from, including full-frame, half-frame, full-frame with divider, optional map pockets, external pockets, internal hang loops, hydration port, and for the weight conscience, a no lining option.
My bag, a full-frame, two zippered bag, with internal divider, and external pocket, in black, Xpac 21 fabric.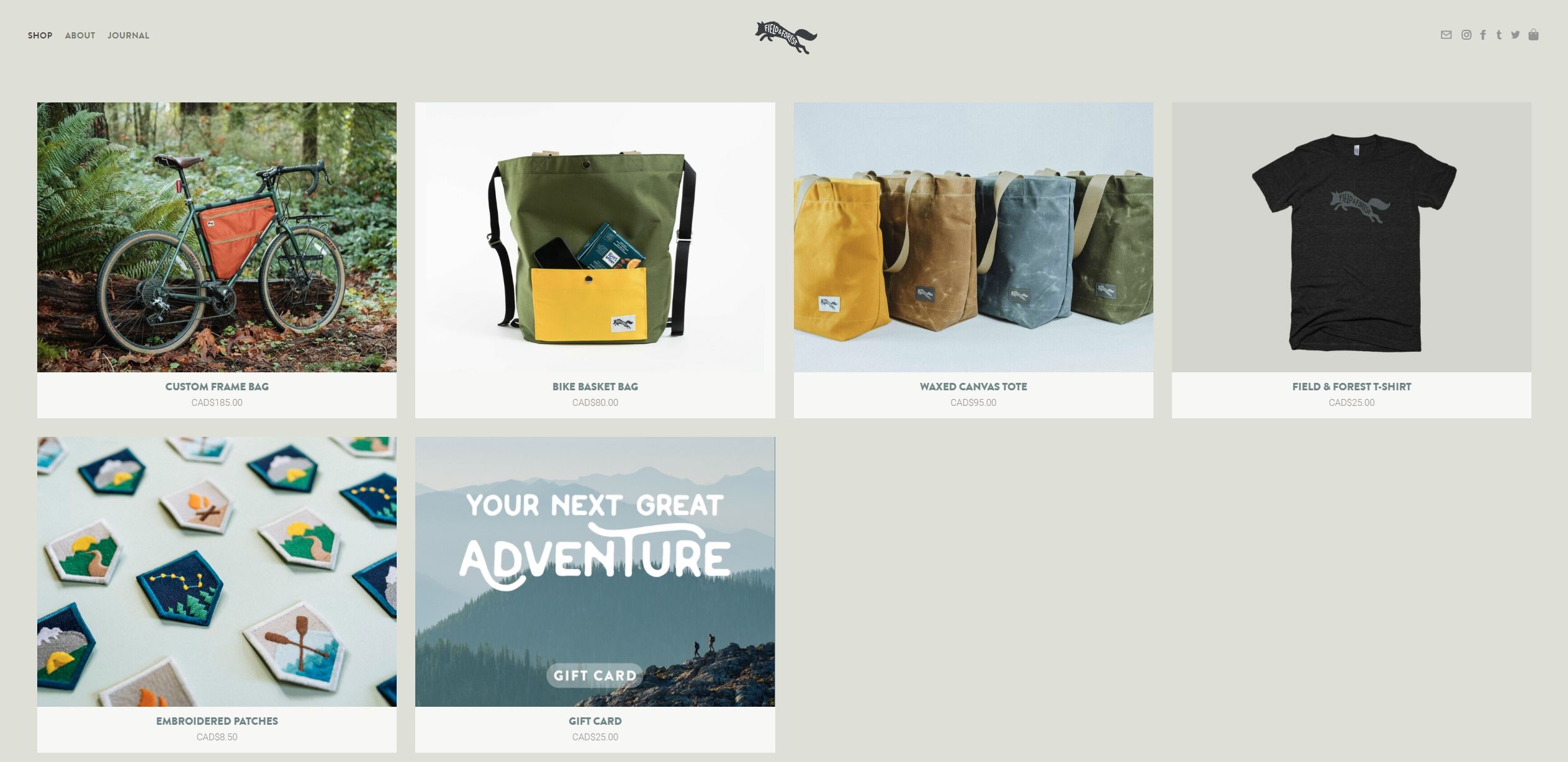 Being a newer player on the market with limited reviews, I was a little nervous at first. What ended up giving me comfort was the passion that the owners Megan and Emanuel, share for adventure, as evidenced by the beautifully written stories about their own adventures.
My hope, which so far rings true, is that these are people who love adventure, can sew, and are looking to design the perfect frame bag based their own years of experience.
Field and Forest Frame Bag – Ordering
When you look at their site, you will notice that Field and Forest have many different stock fabrics and colours available.
I mention this because, despite all those colours, I was initially hoping for something different.
The team at Field and Forest tried very hard to work with me, both sharing with me their known distributors and helping me search for new distributors attempting to find that perfect fabric.
After looking at multiple options, using Photoshop to cut and paste samples on my bike, I ultimately decided to keep it simple with a classic black Xpac.
Once the order was complete I took the time to measure my frame and send it through.
A few days later, Field and Forest replied, asking me to confirm the measurements by sending a photo with a ruler attached.
Field and Forest Frame Bag – Unboxing
The order was placed April 15, with an estimated arrival date of April 27 to May 5, ultimately arriving the week of May 17. Although a little later than initially expected, in all fairness, the back and forth around fabric type and colour all happened after the initial order, thereby adding to the processing time.
The bag came in this non-descript brown box, which had the shipping label removed.
Although slightly compressed to save on shipping costs, the bag popped right back out to its true dimensions without issue. There is an option to ship in a larger package if you're willing to pay a little more.
The box also came with this personalized postcard thanking me for my purchase, congratulating me on my classic colour choice, and wishing me many great adventures with it.
For those that are curious the bag comes in at a total weight of 319 grames including all the velcro straps.
Field and Forest Frame Bag – Initial Thoughts
Main pocket side photo from both my maiden ride, and at home.
A few quick highlights:
The stitching is all top-notch.
The zipper is of high quality and even includes a little pocket to house the zipper in adding to water resistance.
The bag is lined with a light-coloured liner making it easy to find anything hidden within.
The top pocket and bottom pocket are separated by an integrated velcro divider enabling you to fill the full bag or separate out as required.
The bag easily held my two-litre hydration pack, four big pieces of banana bread, trail mix, with lots of room to pack plenty more.
On the opposite side you can see easily see the optional side pocket which easily held my keys and cell phone with plent of room to spare.
Field and Forest Frame Bag – First Ride