Reading Time:
7
minutes
It's been a busy summer with too much (or should I say not enough) time spent camping, bikepacking, and… for the first time in 18 months, racing. It's been awesome, but I've fallen way too far behind in sharing all the excellent content I've been accumulating, including another great west of Toronto route, Springtime in Paris.
Spring Time in Paris is another fantastic route by Ed D of RidewithGPS fame, builder of many a fantastic route, including one of my personal favourites, West Montrose Covered Bridge to Elora.
Sprintime in Paris – Route Notes
Parking – Dickson Park Centre.
Elevation Profile – Flatter than most with just 484m of gain over 80km.
Speed Profile – Fast.
Route Profile – Roughly 40% gravel, 35% asphalt, and 25% rail trail.
Safety Profile – All things considered, limited traffic, close to civilization, a reasonably safe route to ride.
Stores – Paris 60km in.
Favourite Part – The Town of Paris and the gravel west of it.
Least Favourite Part – Not having time to checkout Paris.
My Stats – 81km, 484m climbing, 3:45 total time, 3:22 moving time, 24km moving speed.
Starting on Tarmac – Cambridge to Sudden Regional Forest – Kms 0-14
Coming into the day, I was excited about all the route had to offer, with visions of viewing the Grand out of Cambridge, exploring the gravel and trails into Paris, seeing the beautiful waterfront in historic Paris, and some high hopes for the rail trail back to Cambridge.
And what can I say? It was pretty good. The scenery wasn't quite as good as another one of Ed's routes, a personal favourite, West Montrose to Covered Bridge to Elora, but another great ride all the same.
---
The ride starts in the former town of Galt, just west of the incredibly scenic and historic Cambridge Waterfront, follows bike-friendly city streets out of Cambridge before traversing the longest stretch of asphalt, 13km of lightly trafficked roads to Sudden Regional Forest.
As I planned the day, I had both expected and looked forward to following the Grand out of Cambridge and catching the views along the way. Unfortunately, due to private property blocking the views, it wasn't meant to be.
The 1km jaunt through Sudden Regional Forest serves as the perfect transition from the early asphalt out of Cambridge to an extended stretch of gravel roads into Paris.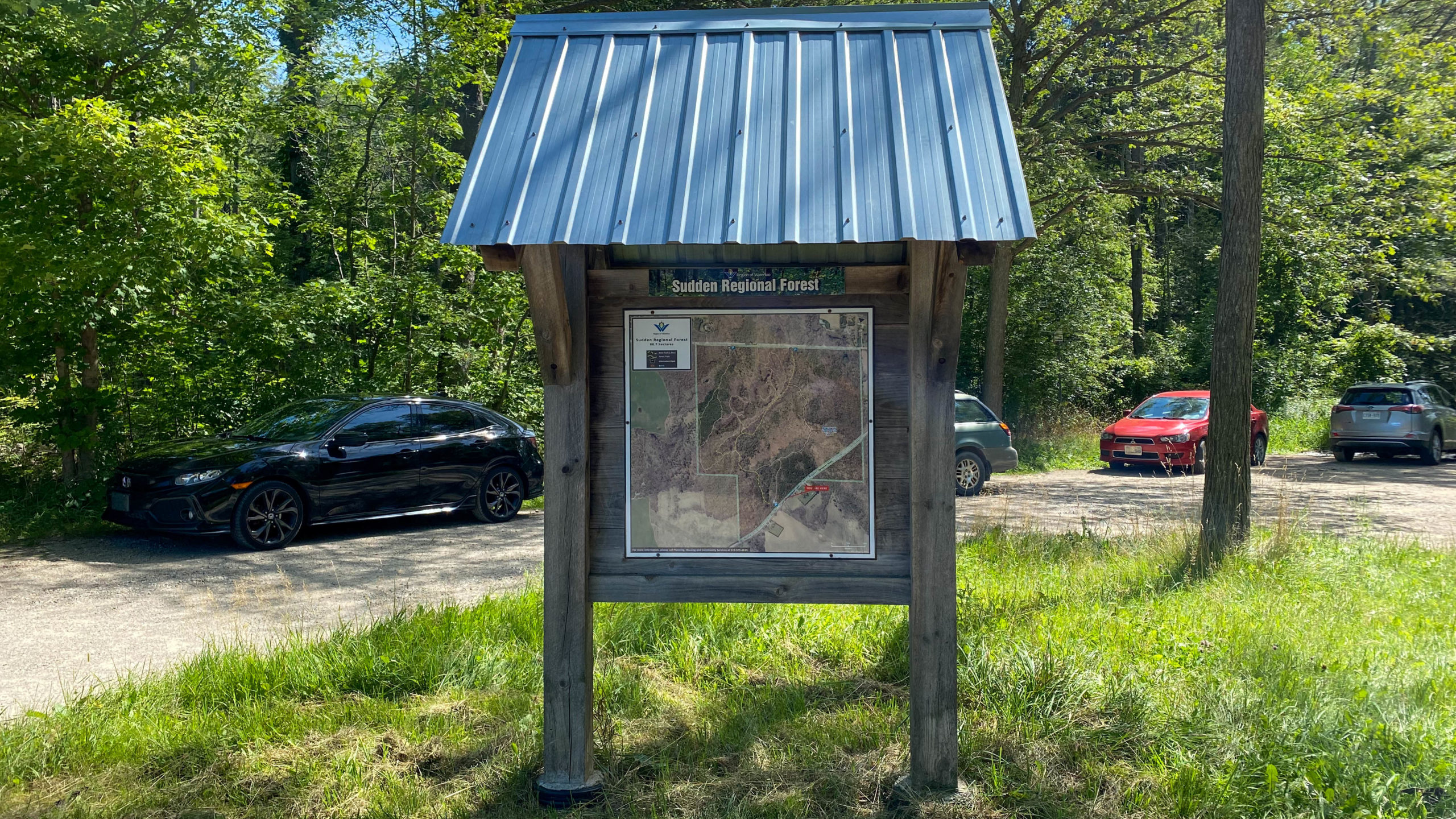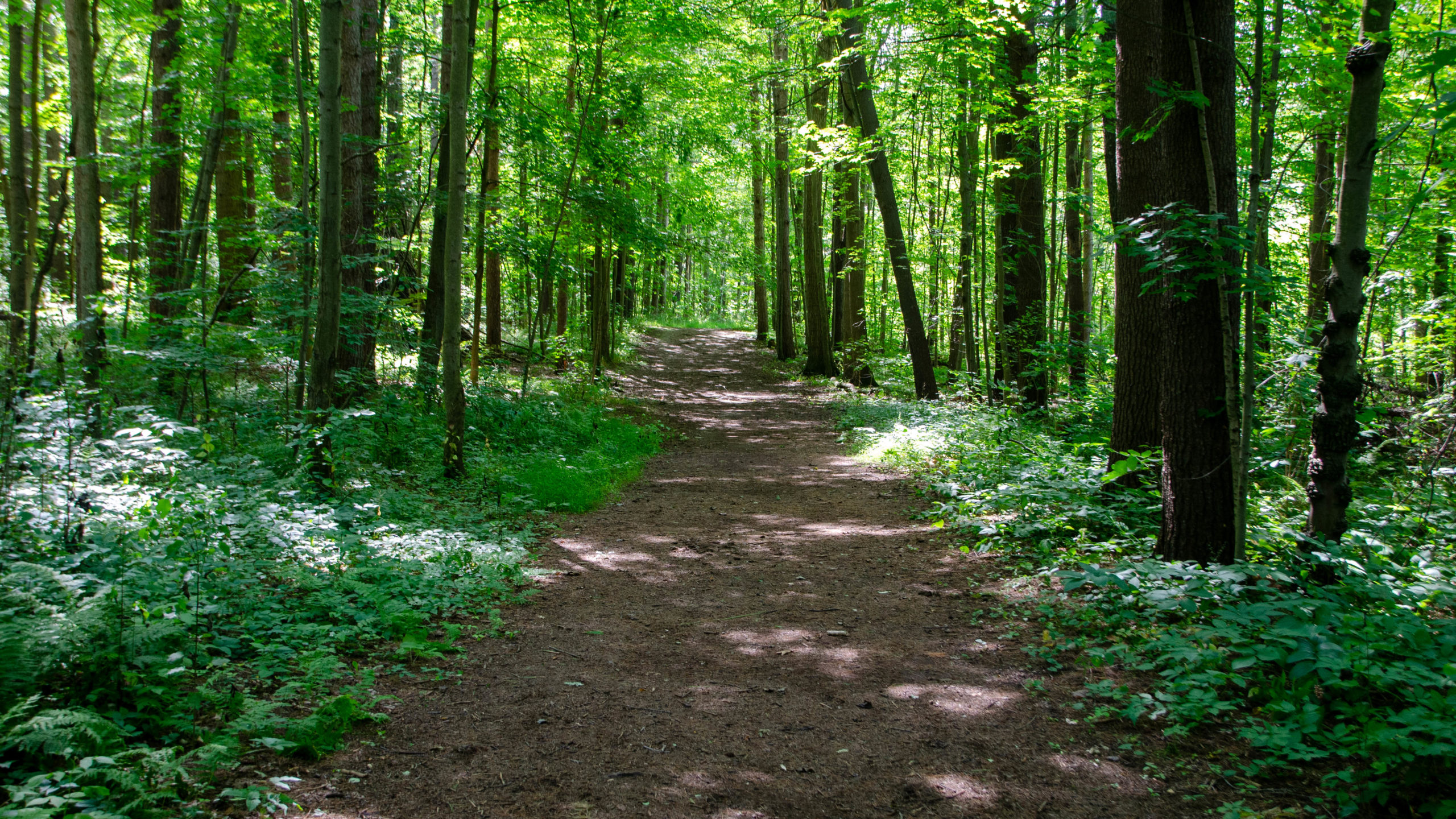 Let the Gravel Begin – Sudden Regional Forest to Paris – Kms 14-56
As I rode these roads, all the names sounded super familiar. Many of them, it almost felt like I'd ridden them before. Looking back, although there was a 10km overlap with the Cambridge Loop, it wasn't so much to feel repetitive.
Cambridge Communications towers
My poor attempt at an artistic wide-angle shot of hay bales in the field.
As great as it was, the traffic got pretty intense at times.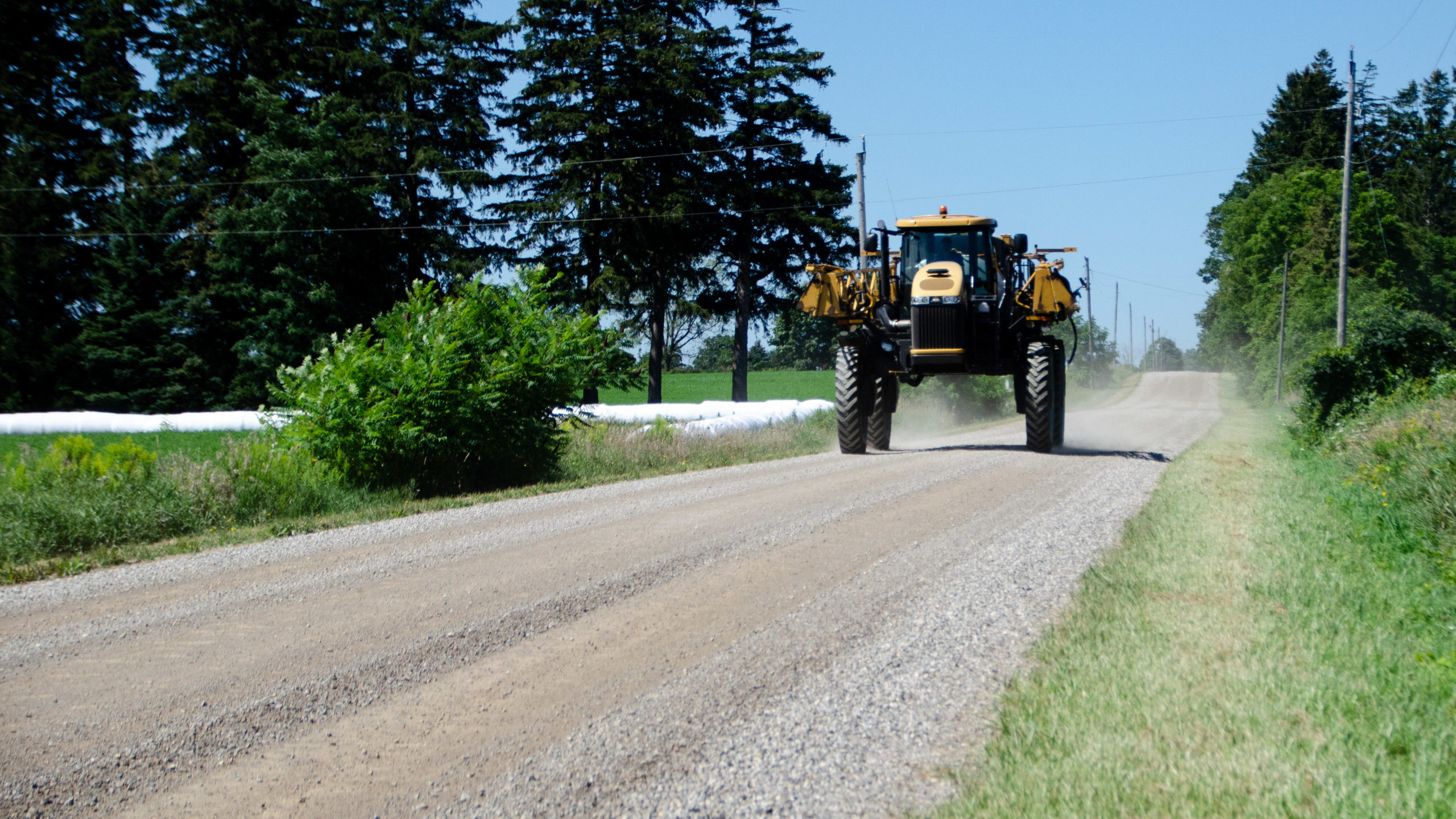 A typical stretch of gravel west of Paris.
I like paddling but wouldn't consider myself a paddler, probably because it never felt like any fun options existed close to home.
Riding from Cambridge to Paris and back I quickly discovered how wrong I was, with literally hundreds of paddlers seen all throughout the day.
It looks like one more thing has now been added to my 2021 bucket list.
56km later, the Town of Paris.
Springtime in Paris (In the Summer) – Kms 56-58
The entry into Paris following the road on the right before sharply detouring onto the Nith Trail and Penmans Path.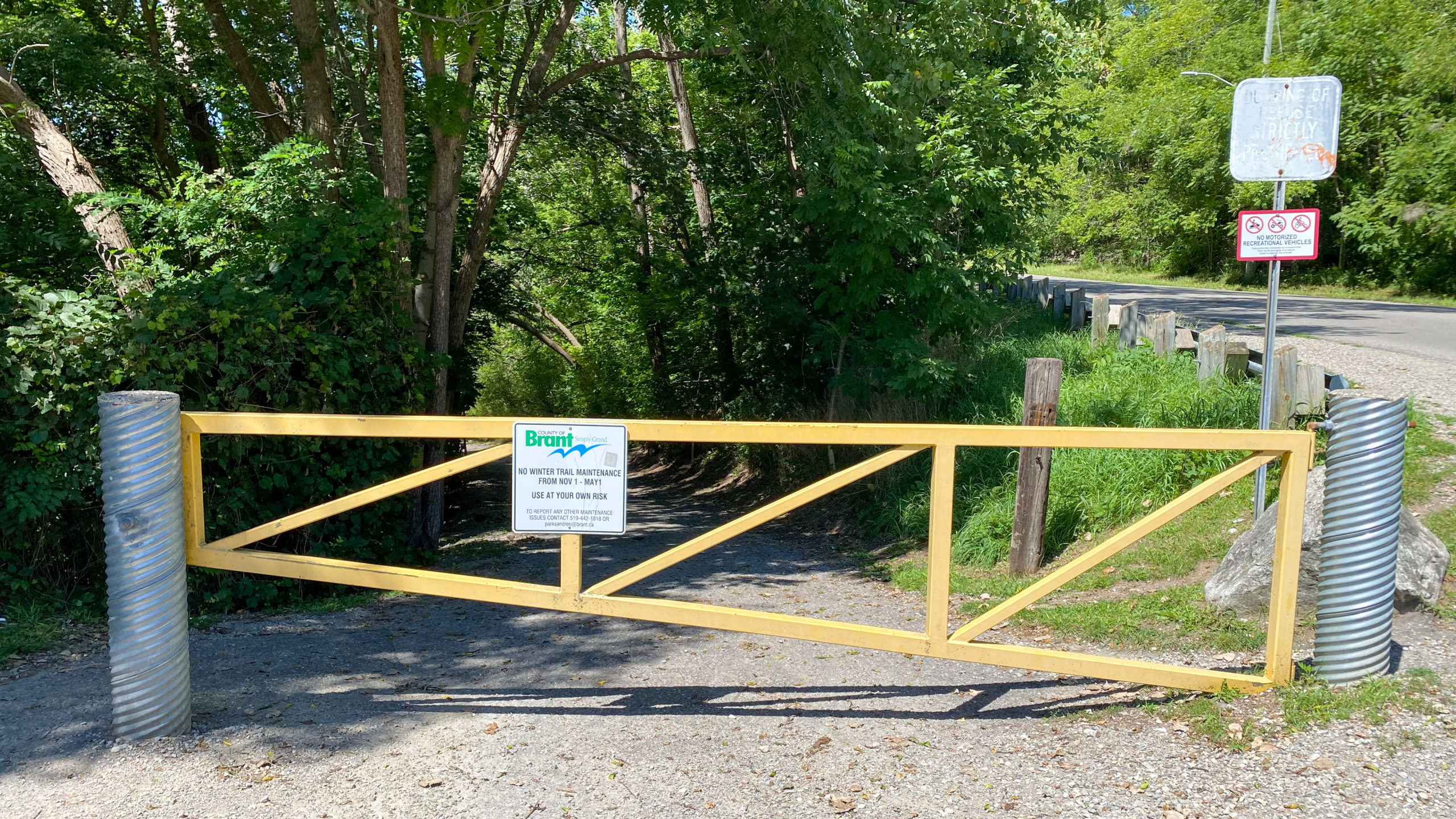 As I crossed Penman's Path (bridge), I had the opportunity to briefly chat with the family you see below.
For anyone interested in a fun family adventure, you can apparently start an hour or so long lazy river tube ride from Penman's Pass to the Paris Optimist Park, about 4km downstream.
Liability disclaimer, try this at your own risk. I can't vouch for it. I don't even know if it's legal. I'm simply going by what one family told me. Please take extreme caution as I'm sure the currents can vary based on season and recent weather.
Although Paris is beautiful, unfortunately, traffic ruins the experience just a bit.
I didn't have the time or the energy to take in the sights or sounds today, but I do plan to come back next summer, take a lazy tube down the river, and stop for lunch at one of the many stops nearby.
Perhaps my favourite part about Paris, watching this sign painter hand paint the sign for John M. Hall Quality Linens.
Looking back at historic downtown Paris.
Penman's Dam and the railway trestle bridge as seen from the William Street Bridge.
Paris to Cambridge via the Rail Trail – Kms 58-81
The final 23km of the route follows the Cambridge to Paris Rail Trail, one of the many rail trails connecting KWC and Greater Hamilton.
A typical stretch of the trail.
Although loved by many, I'm generally not a fan of rail-trail, simply because they can be long, flat, and completely lacking in variety, kind of like running on an outdoor treadmill.
With beautiful views of The Grand along my left, and some fun stops, such as The Murray Overlook, this one was just a little better than most.
Here's a brief bit of history stolen from the informative sign just out front…
The Cambridge to Paris rail-trail was built on the abandoned Lake Erie & Northern Railway in 1994, thanks to a fundraising campaign led by the Grand River Conservation Foundation. The piers of the Murray Overlook serve as the only remaining parts of the Grand Trunk Railway Bridge that formerly linked Paris with Harrisburg, 14km to the east.
It was about 10km out of Cambridge, that things got interesting.
Riding along the trail, I was doing fine, maintaining a nice steady pace of around 23km/hr on the false flat into Cambridge, when out of nowhere, some guy, who didn't look the part of a cyclist easily passed me by.
Before I continue, I'll note that I've been feeling lazy in my riding. I haven't pushed myself and genuinely feeling that I've been regressing as a rider in more ways than one. As he passed me, I got angry, thinking what's the matter with me, how can I let this guy, pass me by, and with that I was off.
I nearly died.
Ten kilometres or so later, we arrived in Galt, where we stopped for a brief chat, and I learned… NEVER judge a book by its cover. This dude may not have looked the part to me, but apparently, he did a single-day roundtrip from Toronto to Barrie last weekend and is more hardcore than I can ever dream of being.
By the time I got back to my car, I was a mess with some fun combination of exhaustion and heatstroke. So bad, in fact, I wasn't sure I'd be able to make the drive home.
A few Gatorade's and an hour of rest later, recovery set in and off I went.
Springtime in Paris Final Thoughts
Springtime in Paris was a pretty good ride, ideal for anyone interested in both exploring the gravel west of Toronto and seeing some of the photogenic towns along the way.
Special thanks to Ed D. for another fantastic gravel route.
Thanks for reading,
Cory