Reading Time:
7
minutes
This past weekend I took my kids up to Grundy Lake Provincial Park for what turned out to be a fantastic weekend of camping, filled with great weather, fun with family, and even a few trail runs.
Back in February my sister and I had booked what was to be our first of many camping trips in 2020, then COVID hit, and we only managed to get this one weekend on the schedule.
With a light, persistent rain forecasted for Sunday and Monday, the weekend almost didn't happen, but my kids didn't care and demanded we go, and with that, we were off.
Grundy Lake Provincial Park Review
Over the years we have visited many provincial parks including The Pinery, Lake of Two Rivers, Bon Echo, Sandbanks, Killarney, and a few day visits at Sibbald Point. Although Killarney is by far my favourite for long hiking, for various reasons, Grundy is the one we keep coming back to.
My favourite part about Grundy is that it actually feels like three different Provincial Parks in one. Unlike most parks that have camping areas and a central beach, Grundy is situated on three lakes with six different beaches. There is the main beach with a big beach atmosphere. However, my favourite part is the privacy of the smaller beaches located at many of their nine different campgrounds.

I've personally stayed at both Balsam and Hemlock campgrounds. With the close proximity of these local beaches, my kids can easily move between beach, campsite, to swimming with little effort or forethought.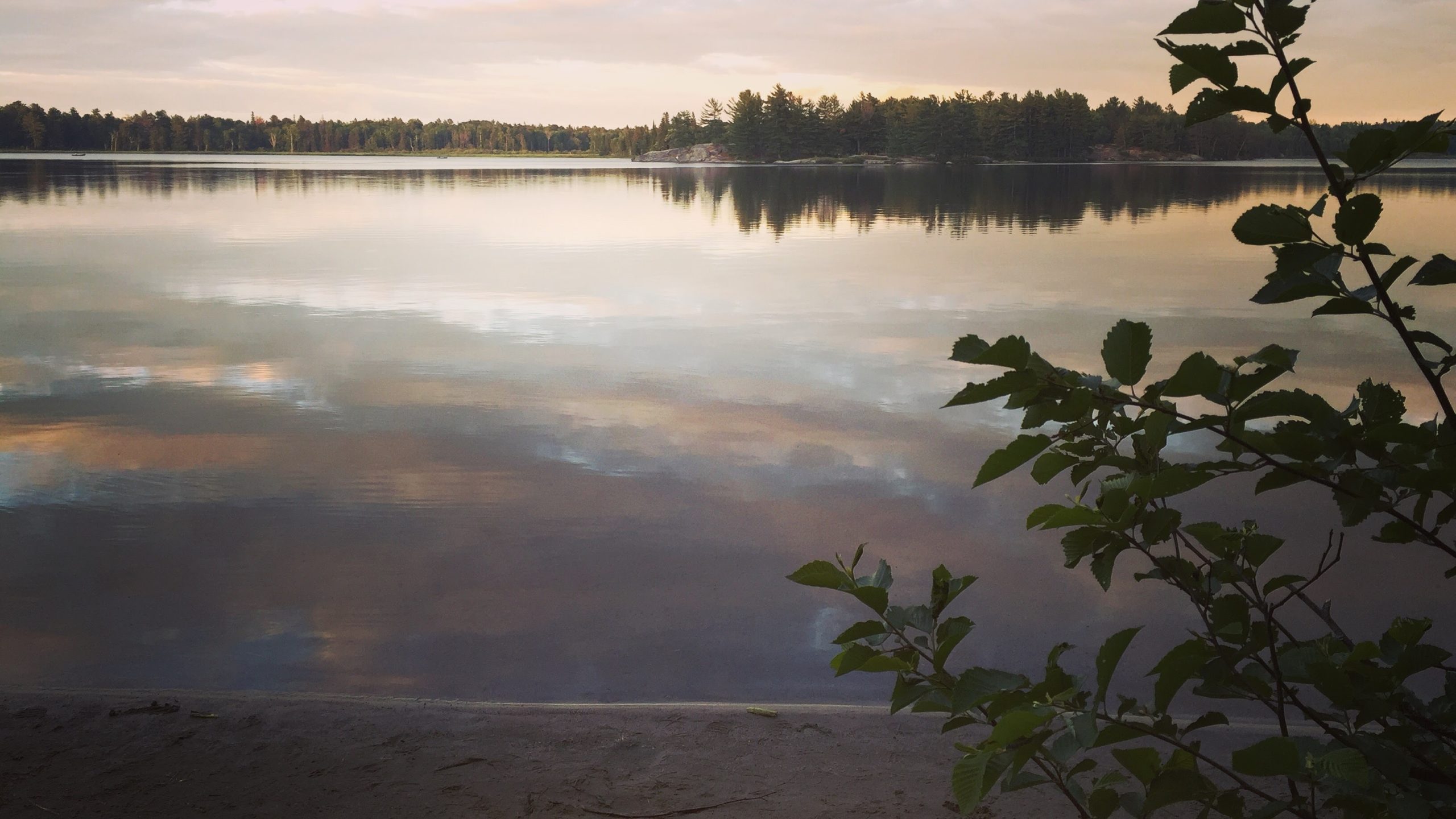 Grundy is also a great family campground, with many different activities for the kids to do including swimming, cliff jumping, fishing, hiking, and canoeing.
The lakes are all motorboat free with great fishing. This past weekend one group was telling me how their combined group caught and released twentyone pike while fishing on Clear Lake.
There are a variety of moderately difficult hiking options within the park. Our personal favourites are the Gut Lake Trail and Swan Lake Trail, both of which provide great diversity and expansive views over rocky ridges, wetlands, and the Canadian Shield. A little further back on the list is the Beaver Dam's Trail which follows some pretty buggy marshland, and forest, before finishing with some excellent views over a couple of wetlands. I have a couple of videos posted below showcasing my attempt to GoPro my runs on both the Swan Lake Trail and Beaver Dam's Trail this past weekend.
If you can it is also worth driving a few kilometres north to the French River Provincial Park, where you can take a short hike along the historic French River to see the Recollet Falls. We've done this excellent hike many times for the unique views, scenic falls, and the historical significance of seeing one of the most historically significant waterways in Canadian history. That said the warnings about the Massasauga Rattler snakes in the area are true, as my daughter and I had the pleasure of seeing one there during a hike back in 2014.
The final and perhaps most important part about Grundy is the washrooms themselves. Unlike any other park I've been to, the vault toilets at Grundy are flush toilets. Unlike vault toilets these are clean, they don't smell, and some even have handwashing stations. If I had one request for the Ontario Parks website it would be to advertise which parks have this feature, as it is a main selling feature for me.
To counter all this praise it is important to call out a few negative things we have found. Lately, we have loved Balsam Campground, the sites are close to water, the area is secluded and the people are generally quieter, but just across the lake is Hwy 400 and at night the noise carries well. We have also stayed at the radio-free Hemlock Campground, but directly beside this campground is the Trailer campground which more than makes up for the noise. That said I will give credit to the park rangers who always ensure that all noise is shut down by 11 at the latest.
Cliff Jumping at Grundy – Summer 2021
After more than seven years at Grundy, we are constantly discovering new things, such as how to access the cliff jumping in July 2021.
The cliff jumping spot is visible from the fishing dock on Gut Lake, and accessible via a short paddle or a short walk through White Spruce Campground and the Gurd Lake Dam Trail.
There's jumping for all abilities, including short jumps for the kids.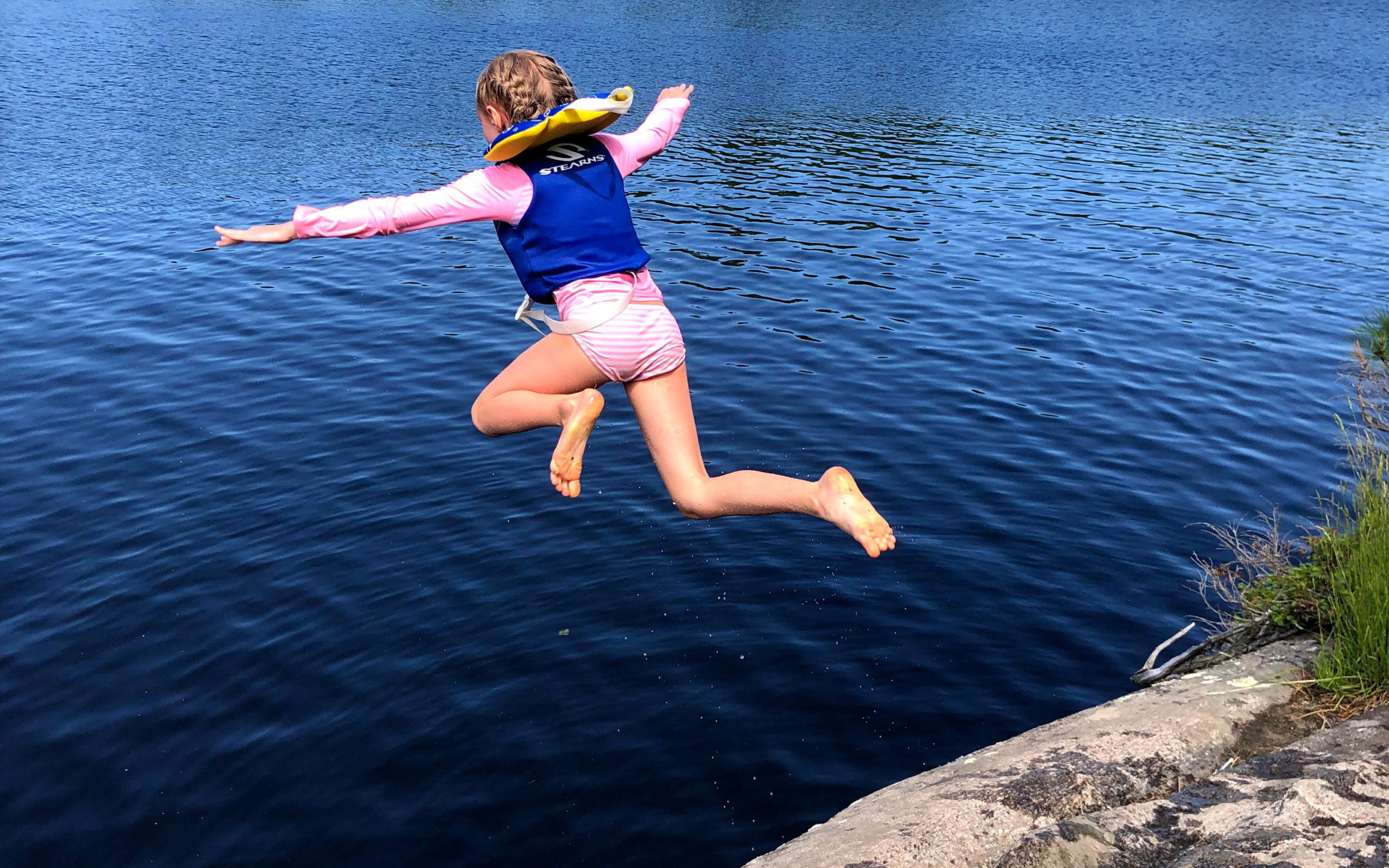 And much higher jumps for those a little braver.
Our Trip – Summer 2020
We typically stop for dinner about an hour south of Grundy, just before Parry Sound, at the last Licks Burger restaurant around. If you are not familiar Licks was the high-quality quick-serve burger restaurant before that was a thing. Unfortunately, they got too big, started making their burgers offsite and lost their appeal. With great burgers, onion rings, and chicken fingers, this Licks though is better than I remember it.
We arrived midday Saturday and immediately took full advantage of the beach and warm waters for a quick swim and site setup, followed by ice cream at the Grundy Supply Post.
Although I woke up on Sunday to a weather forecast calling for an eight percent chance of rain each hour for the next thirty-six hours, I am happy to say that once again the forecast was wrong. The lesson here, which I know well, is to never allow the weather to affect your plans.
After a quick breakfast on Sunday, I took my coffee out to the beach to watch the kids make sandcastles, feeling cold I decided to head over rocks to get some sun when I had my first encounter with this large snake. Although he didn't take long to scurry off, he also didn't seem to want to leave, so back to the shade I went.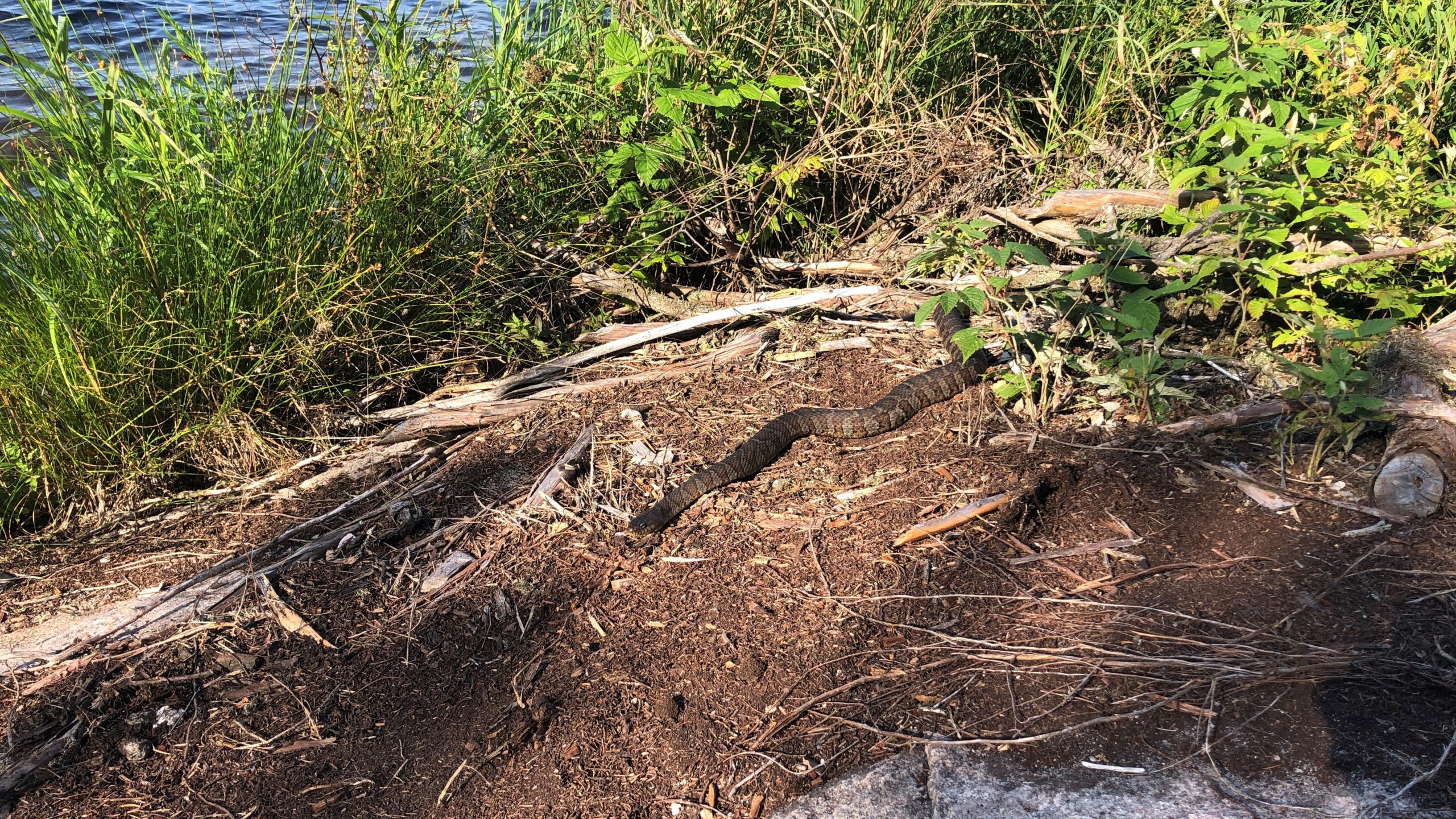 This wouldn't be the last time we would see this guy, as the next morning, while the kids were building sandcastles, I noticed what looked like a stick poking out of the water. I went to investigate and discovered him hanging out just a few feet offshore where he promptly took off. Thanks to the magic of Google I was able to confirm that it is a Northern Watersnake, harmless to humans, and fan of eating leaches, which we luckily never saw and now I know why.
The days at Grundy followed a steady routine of swimming, sandcastles, running, hiking, and a nightly round of ice cream. Although the time was short, the memories were extensive. With the excitement running high the group even managed to find some more camping later this summer at Restoule Provincial Park.
Lastly, being that we are living through COVID right now, it is important to call out that Grundy did an excellent job maintaining cleanliness throughout, with multiple cleanings of all washrooms, and comfort stations each day, all while wearing full PPE.
Trail Running at Grundy
I also managed to get a couple of short trail runs, and one short swim in.
For the first run, I decided to test my GoPro's TimeWarp feature while running the Swan Lake Trail. I used the Auto setting for TimeWarp which enables the GoPro to automatically set the recording speed. As you can tell this didn't really work the best as it's pretty much impossible to follow along.
For the second run, I manually set TimeWarp to 5x speed, which although much easier to digest also highlighted the fact that holding the GoPro doesn't do much for stability.
I also managed to get in one swim across Clear Lake where my Garmin Forerunner did a much better job tracking my out and back swim, then it did when we were at the cottage.
Bears at Grundy
Be forewarned on more than a few occasions while visiting Grundy we have encountered bears.
Although we've seen them, we've never been bothered by them. The big word of warning is don't leave out any food, ever.
Take this last visit, where while packing up on Sunday this baby bear was enjoying licking an empty dog food bowl two sites down from ours at Balsam campground.
Or a few years back where another baby ripped through a food storage tent someone set up the lane across from ours at Hemlock. While talking to the ranger that time he advised that they're mostly harmless and if you keep your food and anything that might smell like food stored properly even while you're there, you won't have a problem.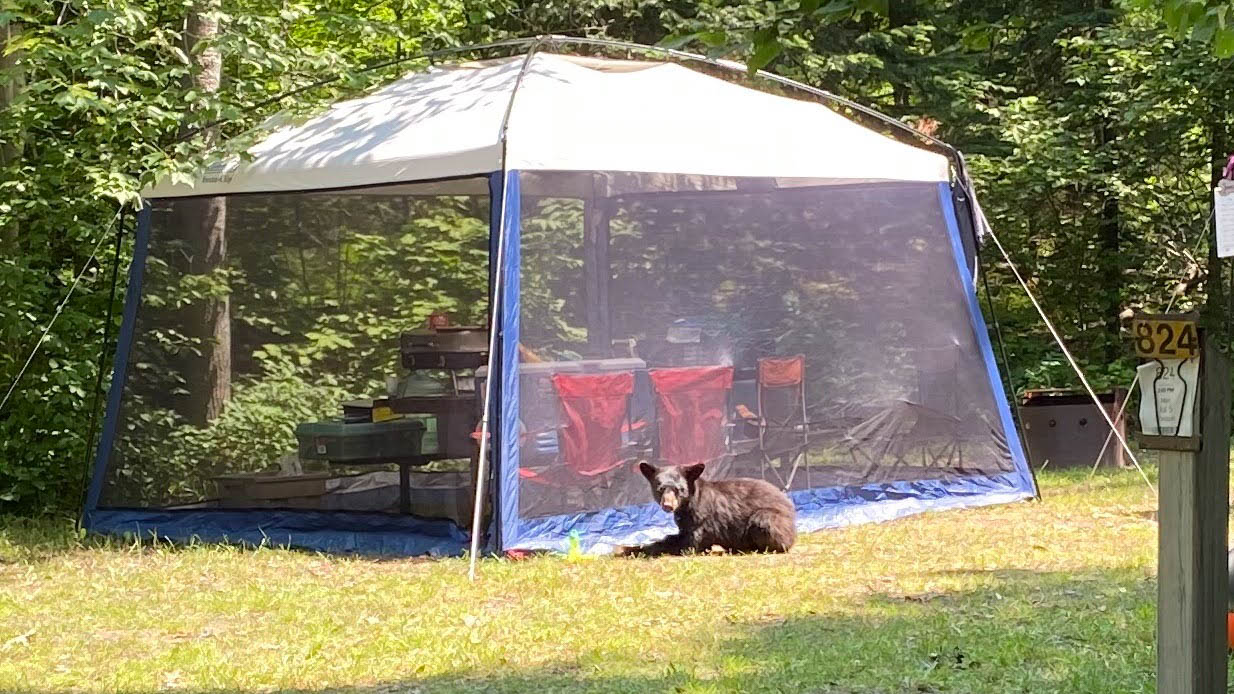 Thanks for reading,
Cory